Small Business Small Website
A GREAT OFFER FOR SMALL BUSINESSES - SMALL WEBSITES AT JUST £59 plus VAT
Choose a small, but beautifully-formed, website from us for just £59 plus VAT per year and get a three page website, email forwarding and your own domain.
Our 3 page package could include:
Page 1 - contact details, photo and map showing your location.
Page 2 - product listing with prices.
Page 3 - 'where to buy', for example local farmers markets and delicatessens, etc.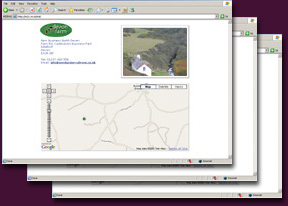 There are no hidden extras - the deal includes all of the following:
Set up.
Your own chosen domain name (for example, www.mysmallholding.co.uk).
Email forwarding (for example, info@mysmallholding.co.uk, which forwards to your current email address).
Two updates a year (and extra updates charged at just £10 plus VAT per page).
We're a tried and tested company with 10 years' experience of providing great websites for small businesses. If you want to see examples of our work, see our Example Webpages section.
If you have any queries, then see our Frequently Asked Questions section. We are also happy to receive any questions by email or phone 01271 828 002.
Looking for something different? Call us and we can give you a fixed price quotation to meet your needs.
Want to know more? Call Mark on 01271 828 002 or email: mark@m2z.co.uk
Ready to get started? Apply NOW!